Tuesday, January 10, 2006
Birthdays
Everyone wants to be remembered on their birthdays. I mean, it is their special day after all, a commemoration of that exact same day, but not date, they were born in. Early, on time, or belated, a simple message will definitely elate that person with a simple smile. (Of course, presents make those smiles even wider.) So lately, I've not been able to do that. Maybe I'm too occupied by my daily life, and isolation from most of friends, that it makes me forget completely. I'm sorry that my greetings are always late guys. As an apology, please bish my head if u see me on the streets. =)
Speaking of birthdays, it reminded me of kexin's one. I just managed to get this picture, courtesy of lixiang. Yay.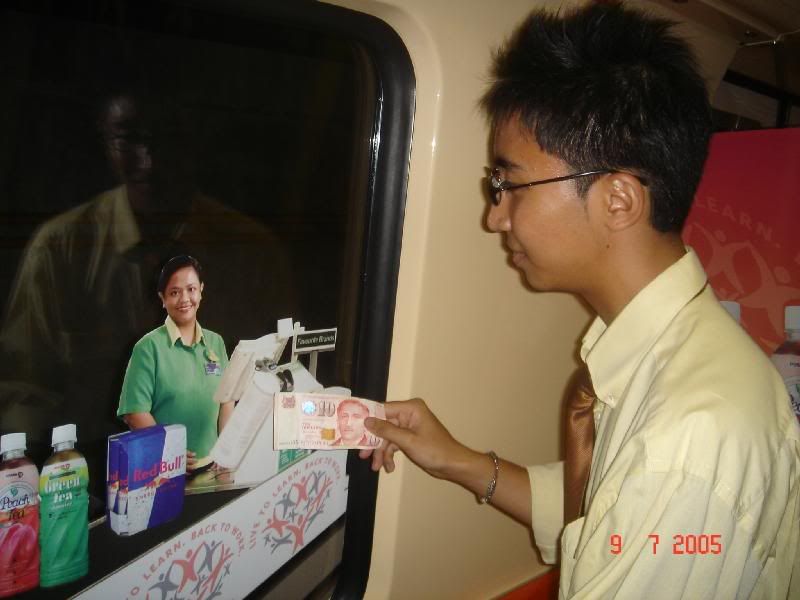 This was taken after her birthday, when we were on the way home. Haha. I'm paying for all that stuff on that counter. It's just so stupid, but I like this shot. It reminds me of how I'm free to express any idea, be it sane or insane, without worries. I like stupid things. I don't need to explain the term "stupid" in here. Heh.
I'm getting less and less enthusiastic about getting people birthday gifts now. Nevertheless, I try to do it. So since it's the new year, and you see this blog, I wanna make this short.
HAPPY BIRTHDAY 2006 TO EVERYONE!
Ok, done. No need to worry about presents, cards, smses, bla bla bla oredi le. Yay!
K, tired now. Played DOTA till 4 am yesterday. Fun. Ciao.
4:43 PM