Sunday, February 12, 2006
Faces
It's something which I don't really express by much, maybe because, I'm too pre-occupied with thoughts in my mind to make faces. Most of my friends see me as being quite a sad/moody guy. I'm not too sure, but sometimes, I get a tad irritated by that comment. (Well, you can't expect me to smile 24/7 do ya??) Yes, I may be tired, but I'm not a Droopy kind of guy, I assure you. When I look at myself in the mirror, yeah, I understand why some people see me as a sad guy. I don't blame you, people! =P But you know, I can let you in on a little secret. I am sad at times, thinking of the past, so if you catch me at that time, buy 4D, because it doesn't happen by much. But I try not to show it. I don't like to share this feeling to anyone, because my burdens are mine alone. So I always laugh, because laughter always brings out the natural smile in anyone. I make cold jokes, as well as real jokes, to bring out that smile in me. It's not fake, but I've found, through tedious research, that I SUCK AT SMILING. Yes friends, I do feel that way. I can't guarantee anything nice, but as requested, I'll smile much more these days okay. Bear with me.
Speaking of faces, I'm starting to notice people more, new and old. It's not like I don't know what faces are shown when people are sad, happy, angry, blablabla, but, I like seeing my friends' expressions. Some of them are just so cute, it makes them rather appealing. (Ahem, this theory mostly applies to the ladies.) I didn't notice it before, but hah, I really do have the cutest friends alive. Heh heh. Such a compliment, and most of them won't be able to know it beacuse of this blog. Kekeke. But that's alright. It's just what I feel like writing, the thoughts in my mind. It doesn't have to be spread to them. (And if you do find out about this somehow, don't hao lian.) It's always great to discover something new about friends. It can amaze you, and it can startle you, but it's always good to know. Let's hang out more, so I can see more of those faces. (Maybe take a pic or two too.)
I took an age test, and they told me I was 21. Heh heh. I'm nearing 20, yet, I have a higher maturity in thought. Lol. Well, not like I really believe it, but it doesn't kill to play along. Here's what it means.
Under 12: You are a kid at heart. You still have an optimistic life view - and you look at the world with awe.13-19: You are a teenager at heart. You question authority and are still trying to find your place in this world.20-29: You are a twentysomething at heart. You feel excited about what's to come... love, work, and new experiences.30-39: You are a thirtysomething at heart. You've had a taste of success and true love, but you want more!40+: You are a mature adult. You've been through most of the ups and downs of life already. Now you get to sit back and relax.
Taken from:
http://www.blogthings.com/whatagequiz/
Was browsing through the net, and I found a rather interesting picture. If only it was true, that's be so cool!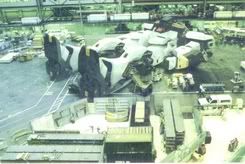 It's like a life-size gundam robot man! WTF! Doesn't it make you feel like this picture was taken inside some super secret military base in Japan, whereby the photographer is a super spy, risking his life just to publish this amazing super incredible secret project! It made me kind of excited eyeing this picture. Alas, it can't be true. I guess it may be for some Cosplay even of something. But hey, it made my day. =)
I regretted saying the wrong word this week. "Irritating". I'm sorry, this is really not the word I wanted to express, but you know, at that time, I was really feeling quite irritated. But if you know me well, deep inside, that's not what I wanted to say. If I were to rephrase what I said that night, it's "Disappointing" and "Pending". I can't deny that it was of pure feelings in the past, but with time, it's been a rather complicated journey to where I am now. This is for you, who can understand what I'm writing about. Please don't take me in the wrong light. I'd definitely like to talk it out more next time. It's something that you guys deserve to know.
Ok, that ends my day. I've got a route march tomorrow. Lights out.
Song of the day: More Than This by Norah Jones featuring Charlie Hunter
I could feel at the time
There was no way of knowing
Fallen leaves in the night
Who can say where they´re blowing
As free as the wind
And hopefully learning
Why the sea on the tide
Has no way of turning

More than this
There is nothing
Oh more than this
You tell me one thing
More than this
You know there's nothing

It was fun for a while
There was no way of knowing
Like a dream in the night
Who can say where we´re going
No care in the world
And maybe I´m learning
Why the sea on the tide
It has no way of turning

More than this
You know there is nothing
Oh more than this
You tell me one thing
More than this
There is nothing
Nothing

More than this
You know there is nothing
Much more than this
You tell me one thing
More than this
There is nothing
More than
10:18 PM