Sunday, May 07, 2006
Having Fun With Blades
Went rollerblading yesterday with kexin and vegustian. Ah, it felt really, really good. It's been quite some time since I rollerbladed, last being about 3 to 4 months ago. Went to East Coast Park (ECP) for this.
We all met at Serangoon Macdonalds. A place full of memories too, in both my Zhonghua and Nanyang times. We were supposed to meet at 8 in the morning for a hearty breakfast. Alas, like any good Singaporean, there will always be someone late. It was not my turn that day. Haha. Came at 8, and they arrived at 845. *Snores*
It was raining rather heavily that morning. The kind where floods can be of no surprise. But I guess it is kind of a blessing. It stopped when kexin and vegus came, so the rest of the day was with clear, blue skies. Vegus showed off his blades. I asked him for the brand. He replied rollerblade. I asked him again. He said rollerblade again. I was pretty confused until he explained that Rollerblade is really the brand. He explained that Rollerblade was the one which started it off. Cool. I didn't know. So hmm, should we be sued for infringing their copyright and trademark agreements? =P Here's the site.
http://www.rollerblade.com/index.php
Took 135 to ECP. Got a bit lost because the surrounding area has undergone renovation. An old man was kind enough to redirect us back on the right path to ECP, so hooray to friendly Singaporeans. With vegustian around, it made us seem like foreign tourists. Haha. After kexin rented her blades, we went on with rollerblading. I kind of like my new blades, because it gives me speed and comfort. But it has terrible ankle support after one and a half hours. Gah. Must find a way to solve this problem. We almost went from end to end on both sides of ECP, but kexin's time limit was the limiting factor. It wasn't that sad. We got to see the fruit of ECP renovations. There was this new wakeboarding thing. People are pulled around by an overhead line and go for rounds. It still looked pretty new, and more improvements can be made to make it a better success. I didn't take a good picture, but here it is anyway. I think it is called Ski 360 degrees.
It was time to head back, so we rushed back in a Mission:Impossible kind of way. But not before we took a picture of sandcastles, and I do emphasise the word 'castle'. Bigger than your average sandcastle, it was really great to see one in person. We pretended to be giants, protectors of these ruins. Heh. Take a look.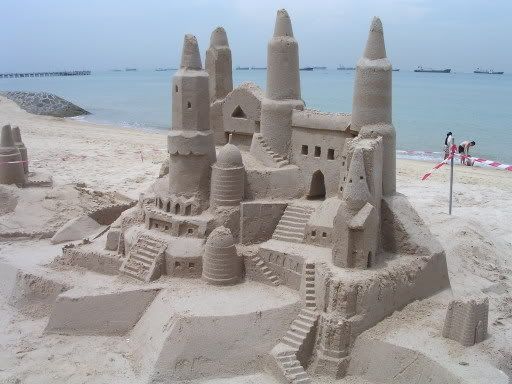 Took one final picture, and we're off. That marks a day of rollerblading.
Went to Heerens soon after to get a mother's day gift for my mum. Somehow, I already knew what to buy for her. 'ABBA' and 'Rod Stewart' dvds. She likes the classics, and who wouldn't anyway. They're good. So yeah, mother's day is on 14th May. It's pretty early, but I can rest knowing I've already got it prepared. Spoiled myself by buying another Stevie Ray Vaughan dvd. Heh. Watched it just now. Awesome and wicked is all I can say.
Slacked today. Was tired from all that blading. I wish to go for another one soon. =)
7:00 PM